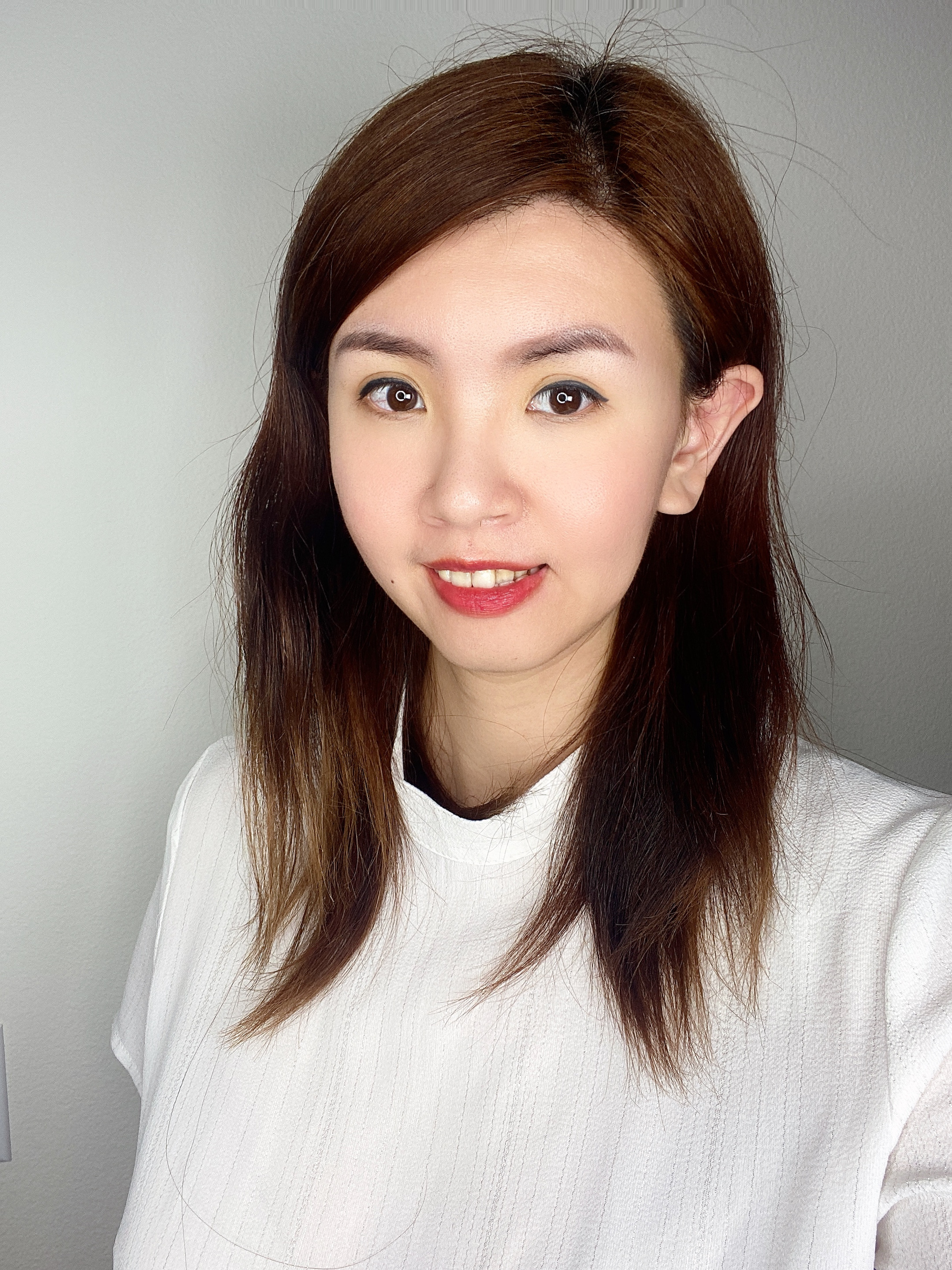 Sophia Huang
Sr. UX/UI Designer
PostUp Design Sprint
Find a place to work, wherever you are.
The Design Sprint
The Design Sprint is a five-day process for answering critical business questions through design, prototyping, and testing ideas with customers. The Design Sprint works for rapidly solving big challenges, creating new products, or improving existing ones. The process was developed by Jake Knapp, John Zeratsky and Braden Kowitz at Google Ventures and described in the book, "Sprint". Companies such as Google, Uber, Slack, Lego, and many more are using Design Sprints to successfully solve their big problems.

I conducted a mock design sprint based on a Bitesize UX challenge: "PostUp is a new startup that wants to help remote workers find great coffee shops and public places to work from." This was an abbreviated version of Google Venture's traditional design sprint, where each"day" was compressed into 2-5hrs of work.
Design Sprint process steps
Monday: Understand
- Define a long term goal
- Talk with the potential users
- Define a target for the sprint
Tuesday: Define
- Sketch solutions on paper
Wednesday: Diverge
- Make difficult decisions
- Define a storyboard to test your hypothesis
Thursday: Prototype
- Build a high-fidelity mockup
Friday: Validate
- Test with real users
- Questions to collect more data/feedback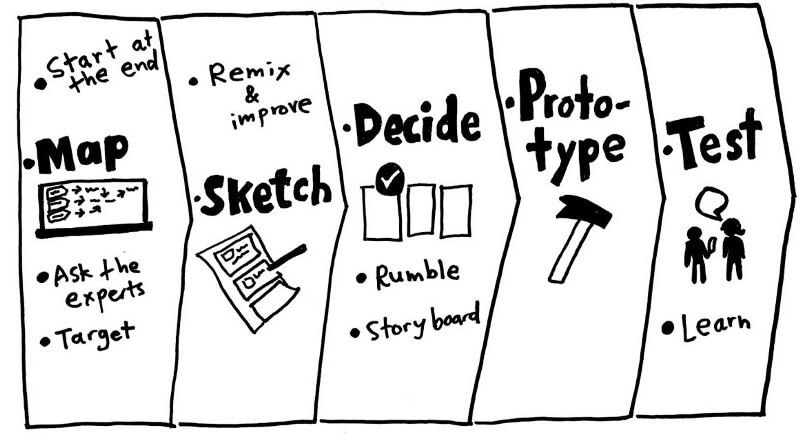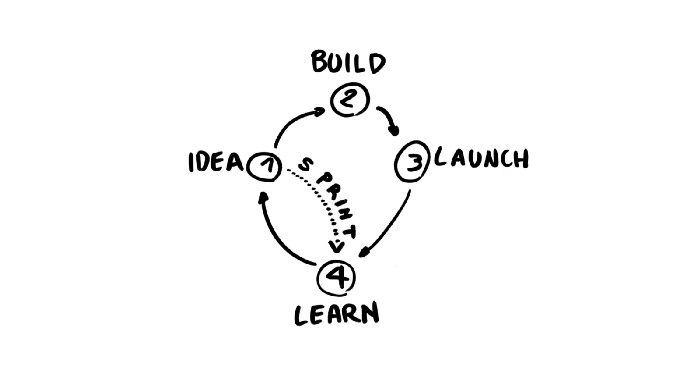 Challenge
Remote workers often struggle to find public places that they can work, particularly if they are unfamiliar with the area. These workers value information about a location's amenities, available space, and general hospitality. This information should be well organized and easily accessible in order to make efficient decisions about where to work.

My Role:
Solo UX/ UI Designer
PostUp Constraints:
Your solution should be designed as a mobile app.
PostUp wants to help users find places that already exist.
Postup Wants to charge a monthly fee to users in exchange for access to PostUp information.
Interviews
This day I begin by taking some time to understand the problem and define the challenge we would like to solve.
Imagine a mobile app that enables you to locate the nearest coffee shop or nice public space with free, reliable WiFi where you can make business conference calls or just finish up your work in between the meetings. Design an end-to-end flow covering the experience from the moment of awareness to locate and suggest the right space for you to work based on the reviews, photos, and your other preferences.
This is something that I have always wanted existing, as I often find myself riding to the nearest Library or Public spaces where reliable free wifi available. As I could easily imagine myself being a user of this, I felt it would be an exciting challenge to work on.
During the interview with a different type of users I asked to tell about their experience finding a public space to do remote work from and here are some of the highlights from the research gathered from the users:
" If a place has Wifi, outlets, and bathrooms- that's all I need. If I need to buy some food or coffee to stay there, I really don't mind. Bonus points if their coffee and food are actually good!"
- Claire
" I know a lot of places to go near me, but I'm often in other parts of the city and need a place nearby to post up for an hour or two between meetings."
- Rhonda
" I definitely look for places that aren't too crowded, especially if I'm trying to get a lot of work done in a short amount of time."
- Evelyn
" Wifi and bathrooms are the most important thing I look for, especially if I plan on working there for a full day."
-Jane
" I usually need to jump on the computer for a video chat - so, I need to make sure the WiFi is good, and that there isn't too much background noise."
-Andy
"I like to know how crowded a place is- If I'm doing independent work, I don't want it to be super loud. If I'm meeting clients or coworkers there, I want to be sure we can get a place to sit and talk for a bit."
- James
" I like to find places where other people go to work - they're usually more friendly towards me setting up my laptop and working. I like places that are used to people working there - I don't have to get nervous that I'll be asked to leave while I'm in the middle of my work."
- Beth
" I usually look at pictures of the place before I go, just to make sure there's enough room for me and my coworker to take a table without feeling guilty."
-Adam
Journey maps
It is time to define the user and define the interaction flow with the problem I'm trying to solve. I created the journey map based on the Affinity map. A customer journey map is a visualization of the process that a person goes through in order to accomplish a goal tied to a specific business or product. It's used for understanding and addressing customer needs and pain points.

The few most important things that users mention most frequently are:
Wifi

Bathroom
Outlets
Quiet
Avoid Crowdedness
A place for quick meetings
Able to make phone calls
I made the affinity map to organize the information from the interviews and organize the insights.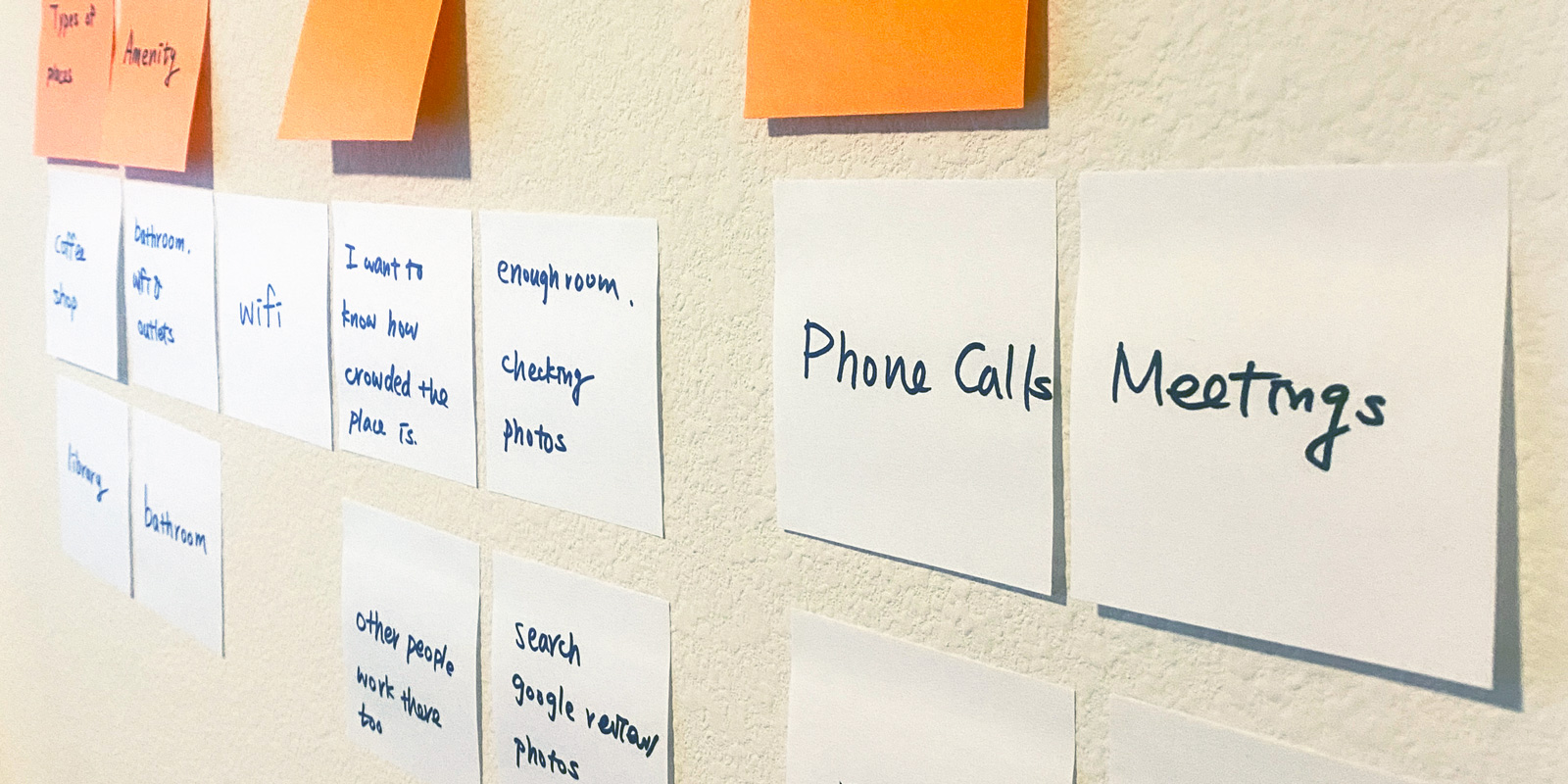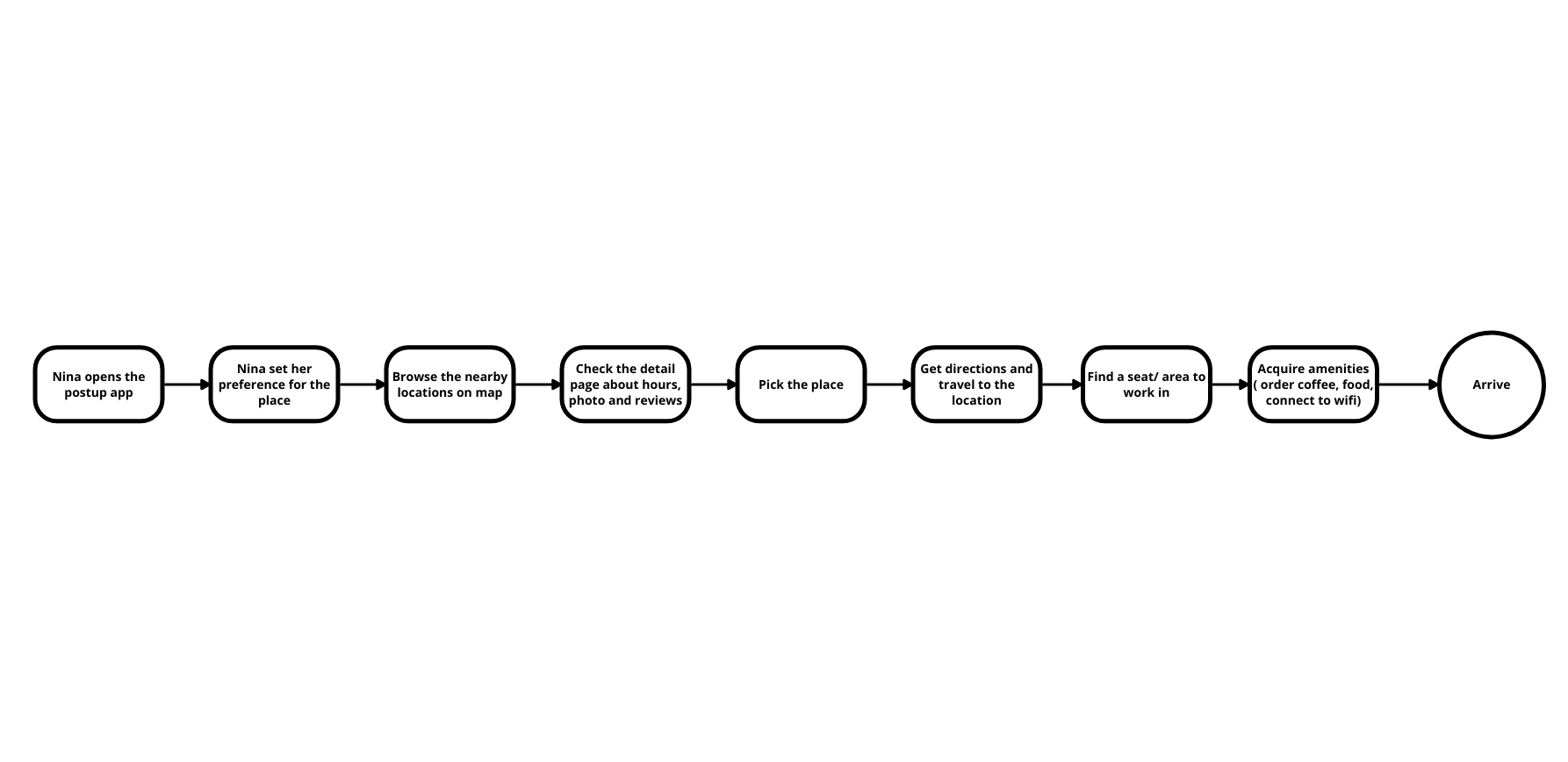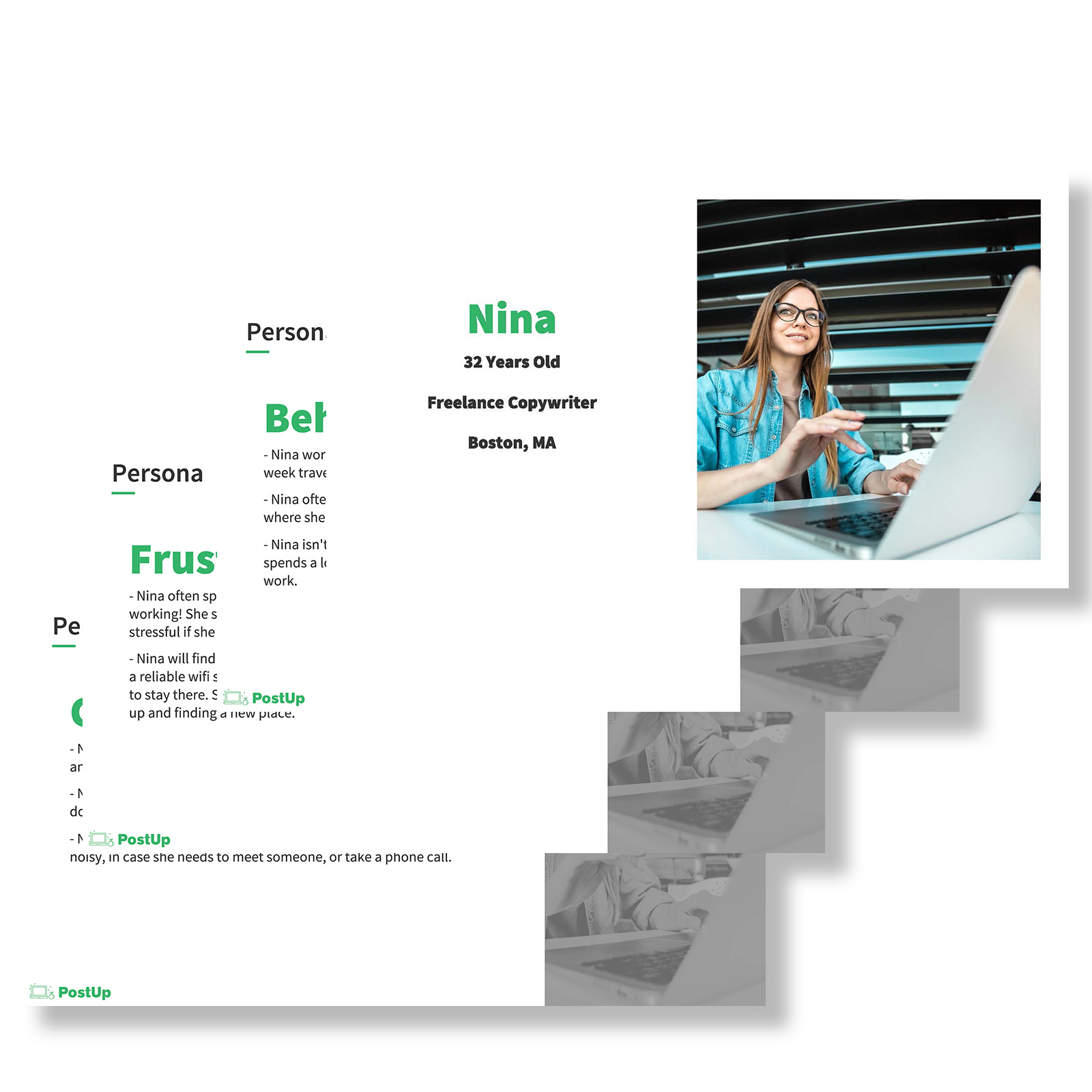 Personas
Nina
32 Years Old
Freelance Copywriter
Boston, MA
Behavior
Nina works from home when she can, but spends at least 3 days a week traveling around the city for client meetings, and remote work.
Nina often has a few hours between meetings and tries to find places where she can sit down and get some work done, or take a phone call.
Nina isn't always familiar with the part of the city she's in, so she spends a lot of time looking for a good place to "post up" and do some work.
Frustrations
Nina often spends more time looking for a place to work than actually working! She sees this as a big waste of time, and it can be really stressful if she has work she needs to get done.
Nina will find a place to work and settle in, only to realize there's not a reliable wifi signal, no restrooms, or that she needs to spend money to stay there. She either has to go with it or spend more time packing up and finding a new place.
Goals
Nina wants to spend less time finding public places to work from, and more time getting her work done!
Nina wants to find places that have the basic amenities she needs to do her work before she settles in to start working.
Nina wants to find somewhere to work that isn't too crowded or noisy, in case she needs to meet someone or make a phone call.
I establish the path the user will follow on the website and that will help me to determine new functionalities for my future product.
User Flows are the deliverables visualizing the complete path that users follow across the whole solution. It helps to design each step with intention and watch traffic and conversions grow.
How Might We — HMW Questions
With this technique, we rethink the questions with the intention of turning these challenges into design opportunities. The way the question is asked suggests that a solution is possible and can be solved in several ways.

I came with How Might We questions, the key issues that I must answer when designing a product.

How might we make it easier for freelancers and remote workers to find a great place to work?
How might we reduce their hassle to check for amenities and hospitality?
How might we make it easier for users to shift between different options that could match their preferences?
With all this information I would already be ready for the next phase of the process where I will try to transform each problem into an opportunity for design.

Lightning Demos
In order to kick off the sketch phase of the sprint, I conducted a lightning demo to analyze the strengths and weaknesses of other apps and competitors in the space. I chose to analyze Google Maps, Waze, WorkFrom, Upflex, KettleSpace, and Workfrom.

After this process, I tried to find the functionalities seen in the competitors, to learn more about why they stand out and how they could help our product. And Pros and Cons analysis from our competitions.

I realized that most of the apps require users to click into the detail page to learn about the amenities. I like the way Waze display information. Making the icons easy to understand by first glance. This might be a way to solve our user's pain points by having to dig into the details to figure out the amenity and their needs.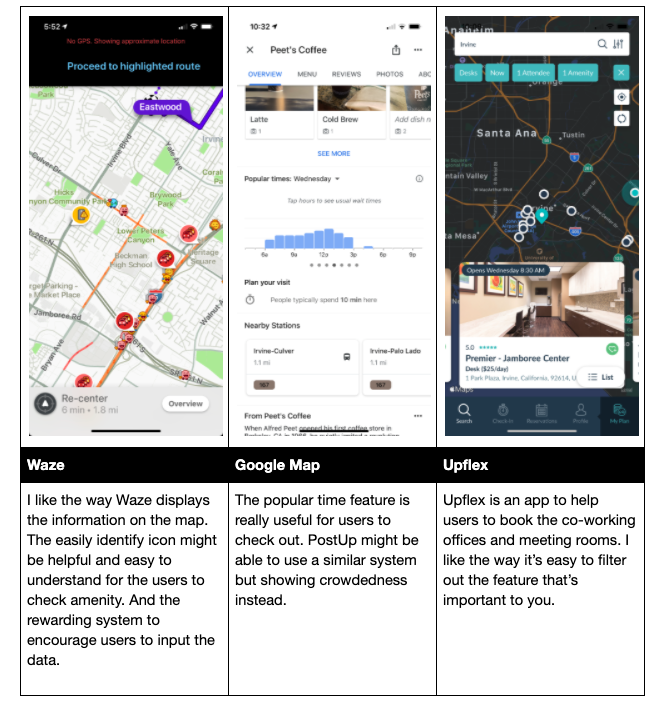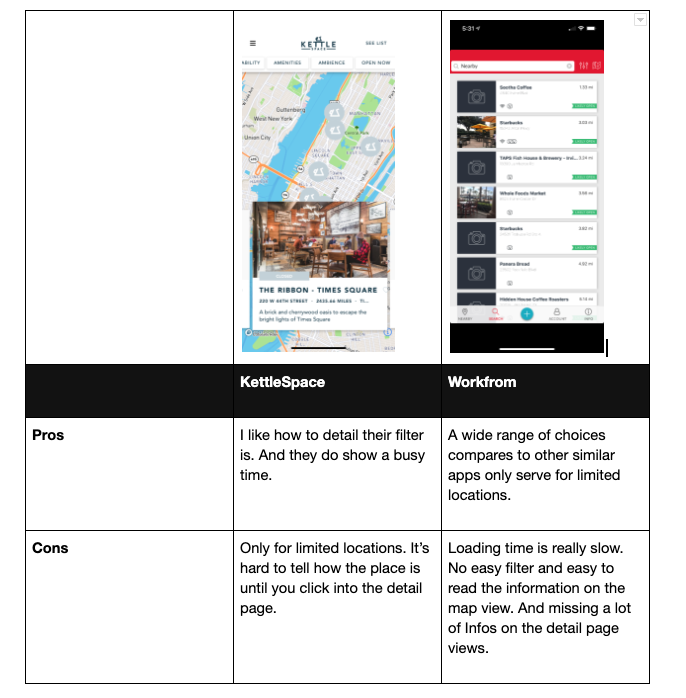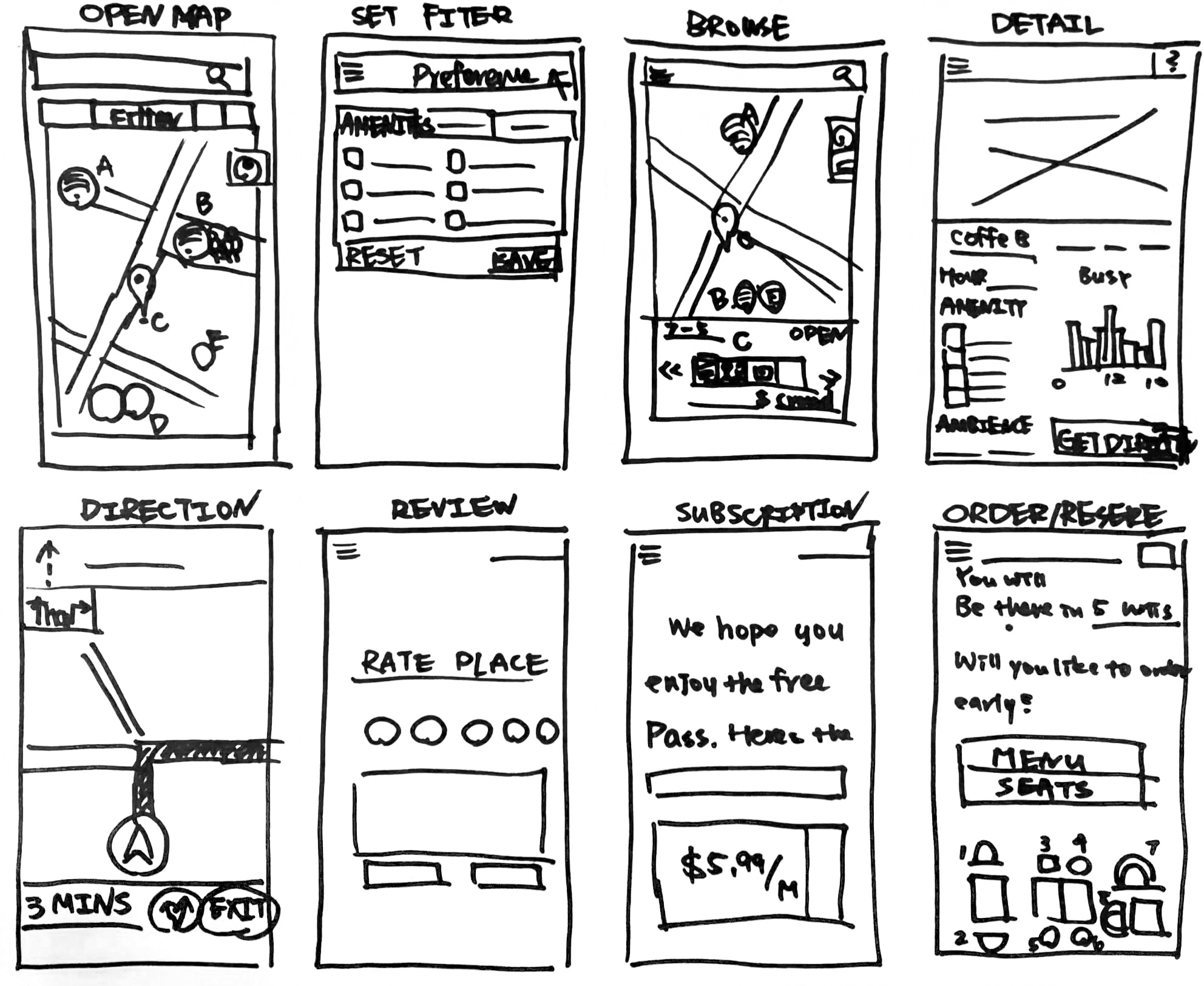 Crazy 8's

Sketches

Based on the user journey I created, I selected the most important feature of the app to be the screens where the user browses spaces to work near them.

Going through the map, I started to brainstorm on what areas need the most attention, how the overall experience can be enhanced while still keeping it simple.


The key aspects of a delightful experience for such an app is largely based on:
Quick and easy navigation through the map
A quick search for coffee shop and library
Easy icon to identify the amenity and other information.
Reserve seats feature to enhance the customer experience in the working spaces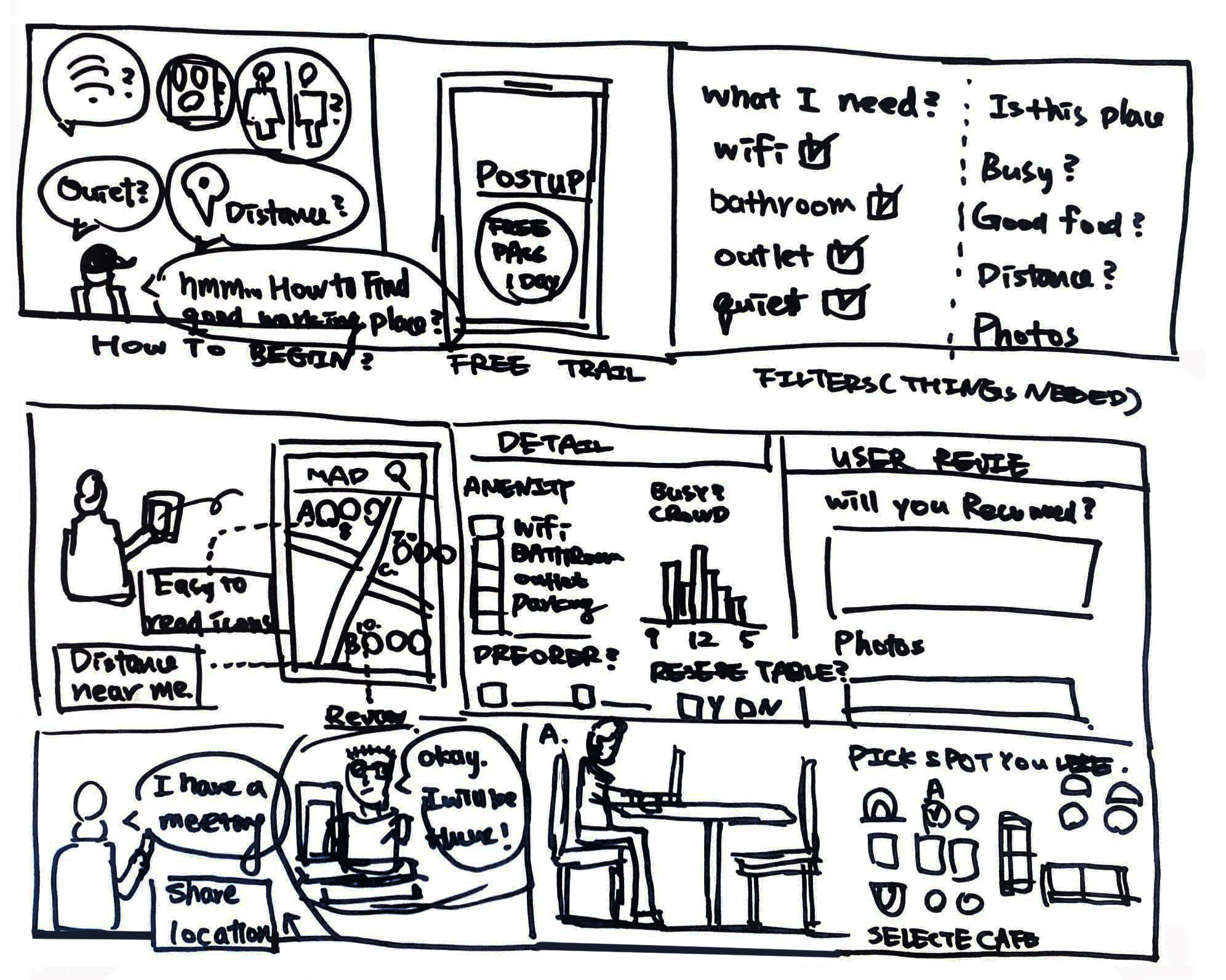 Redefine
If you were working on a design sprint with other team members, you'd use day 3 to pitch your idea to the rest of your team, and then your team would work together to pick the solution they like best. However, because you're working through this sprint on your own, you'll use day 3 to flesh out your storyboard, like you would if your team were to pick the solution that you pitched to them.
Cause I was working on the project solo. I choose to create the storyboard to explore more possibilities and also define the ideas I generated from yesterday's sketches.
I revisit what are the most important thing s to the users. And add the share location feature that user can easily arrange their meetings with clients.
Add crowdedness levels and review numbers to the map.
Redefine pick a seat feature for selected spots.
Encourage users to share locations and their feedbacks to improve the system and help other users.
Fun part starting
Here comes one of my favorite parts. Based on my initial sketches, I started to create a quick prototype using Adobe XD's integrated prototyping tools. The reason that I chose Adobe XD over Invision was primarily based on the ability to easily design toggle states and carousel animations which add a valuable level of interactivity based on the situation that I only have 5 to 7 hours for finishing all UI designs and generate the final prototype. I created a quick icon system first and then organize them into the wireframes.
One of the challenges that I want to solve is the ability to tell the amenity and other information without having to click into the detail shop page. And this is one of the most challenging parts of my UI design as well. I tried a few different ways to presents the icon cards for information and also keep the layout simple and clean.
And then I generated the online testing link by Adobe XD and getting ready for the testings tomorrow!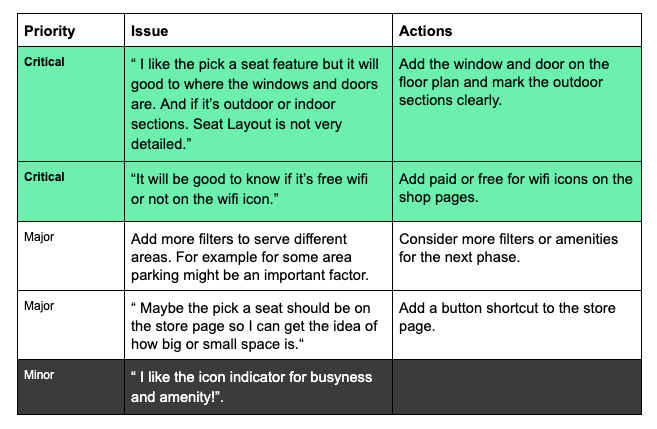 Testings
In order to test my PostUp design, I recruited 5 potential users for a usability test. Each test is around 15-30 minutes and using the five-act interview techniques.
Three of the user was recruited through Usertesting website. And two of them are from the trymyui remote users.
Here are the tasks and scenarios that I asked the testers to do.
Scenario
You are going to meet a client today at 1 pm and you decided to use PostUp to find a coffee shop to work from and meet clients there.
Tasks
Check the amenity and availability on the map.

Find coffee room 103 on the list view. Check on the shop details and go through a few photos.

Navigate to the shop and pick a seat before you get there.

After you arrive, share your location with your client for the meeting.
Findings
The seat map is not so detailed. Users would like to know where the window and doors are and indoor and outdoor areas.

Some amenity might be able to be more detailed. Like if the wifi is free or how much will be charged.

Add more filters to serve different areas. For example for some area parking might be an important factor.

A store version of pick a seat feature to be easily integrated with the selected shops.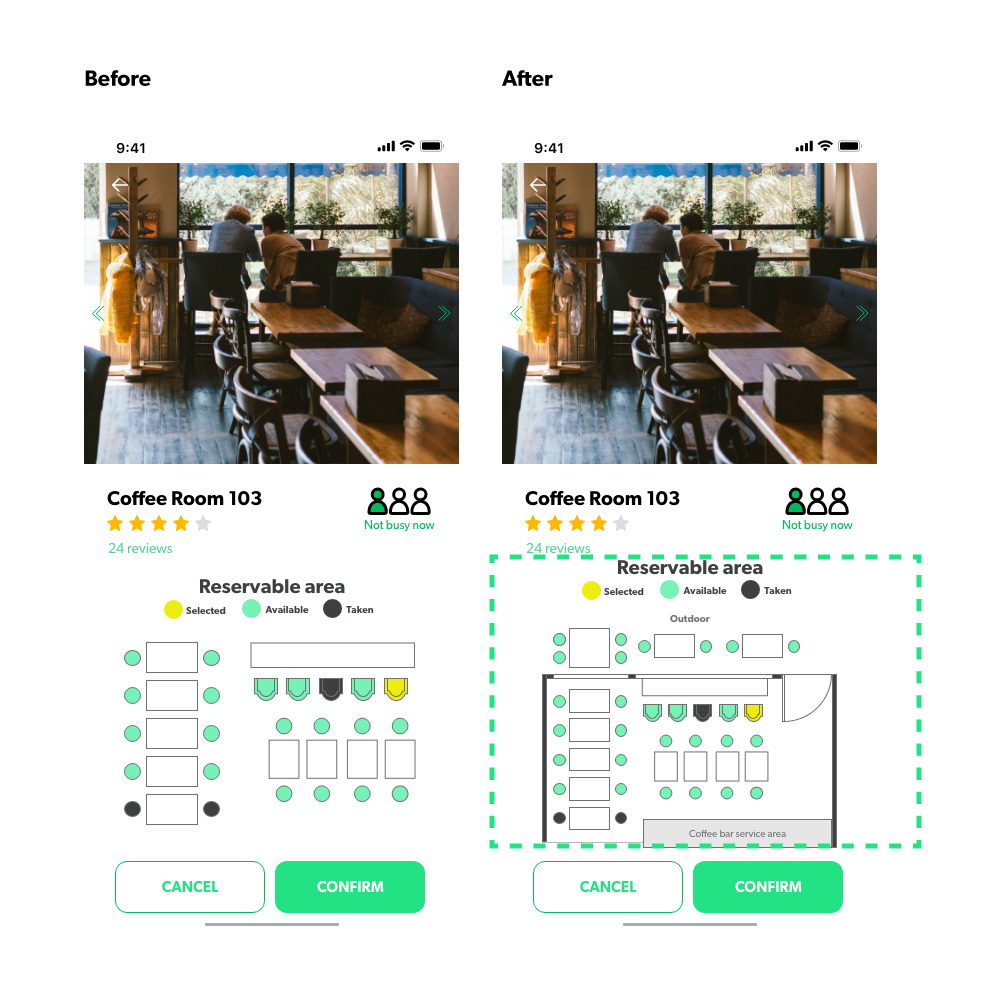 Seats Map
Updated store layout to include the details like where's the entrance, window layout, and outdoor areas.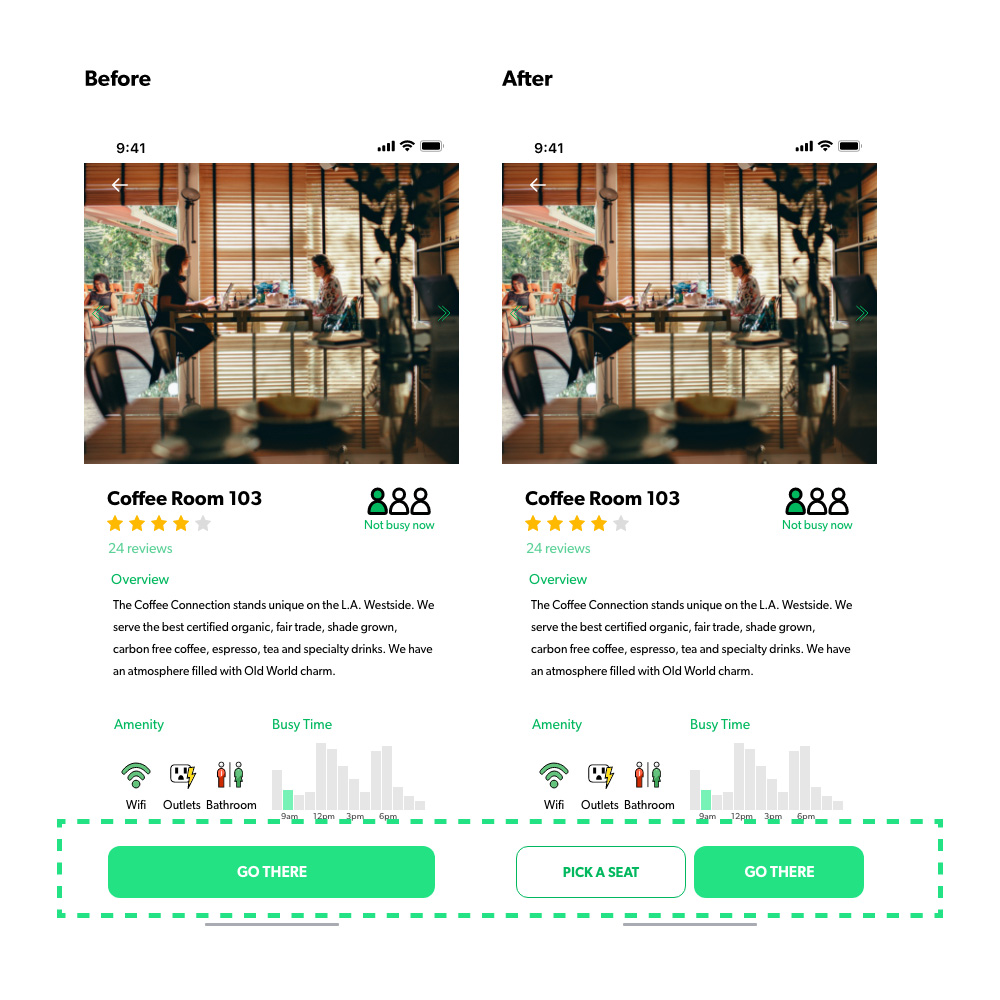 Pick a seat shortcut
Added the shortcut button to the store page based on the user's feedback from the testing.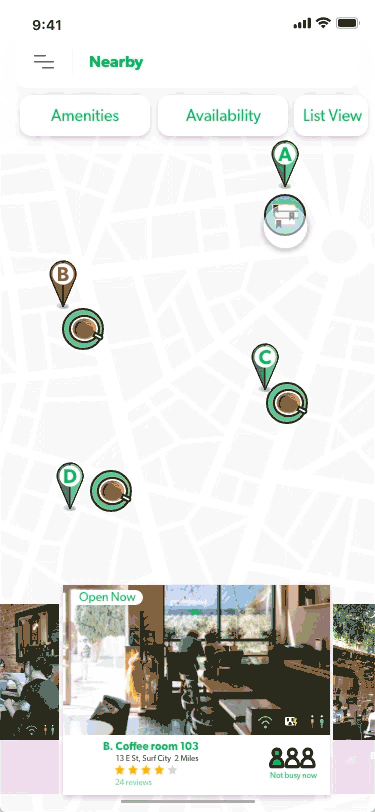 Easy navigation
An icon system will help users easy to filter essential information like the amenity and availability of the shops without extra clicks.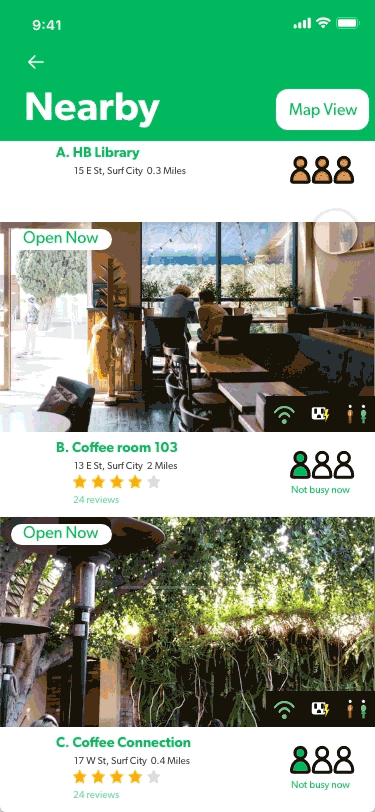 Pick a seat
No more uncertain while you are heading to the shops. Users will be able to reserve spots in selected shops before they arrive. And also will get a general idea of the shop layout.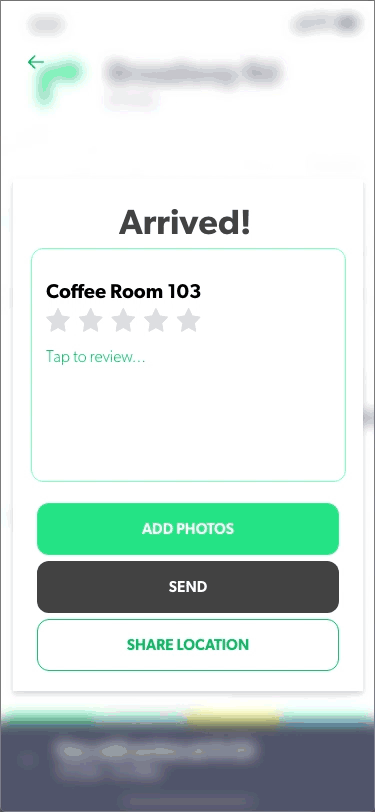 Share Location
Users can share locations with their clients or colleges if they have a meeting scheduled.
What I have learned from this project
I like how Design Sprint let me only focus on one major process at a time. And with time limits that I had to trade off and only focus on the most important issues and features first. This was a great experience and reminder that the best solution could come from a most efficient way as well and sometimes you have to "Proceed and be bold".